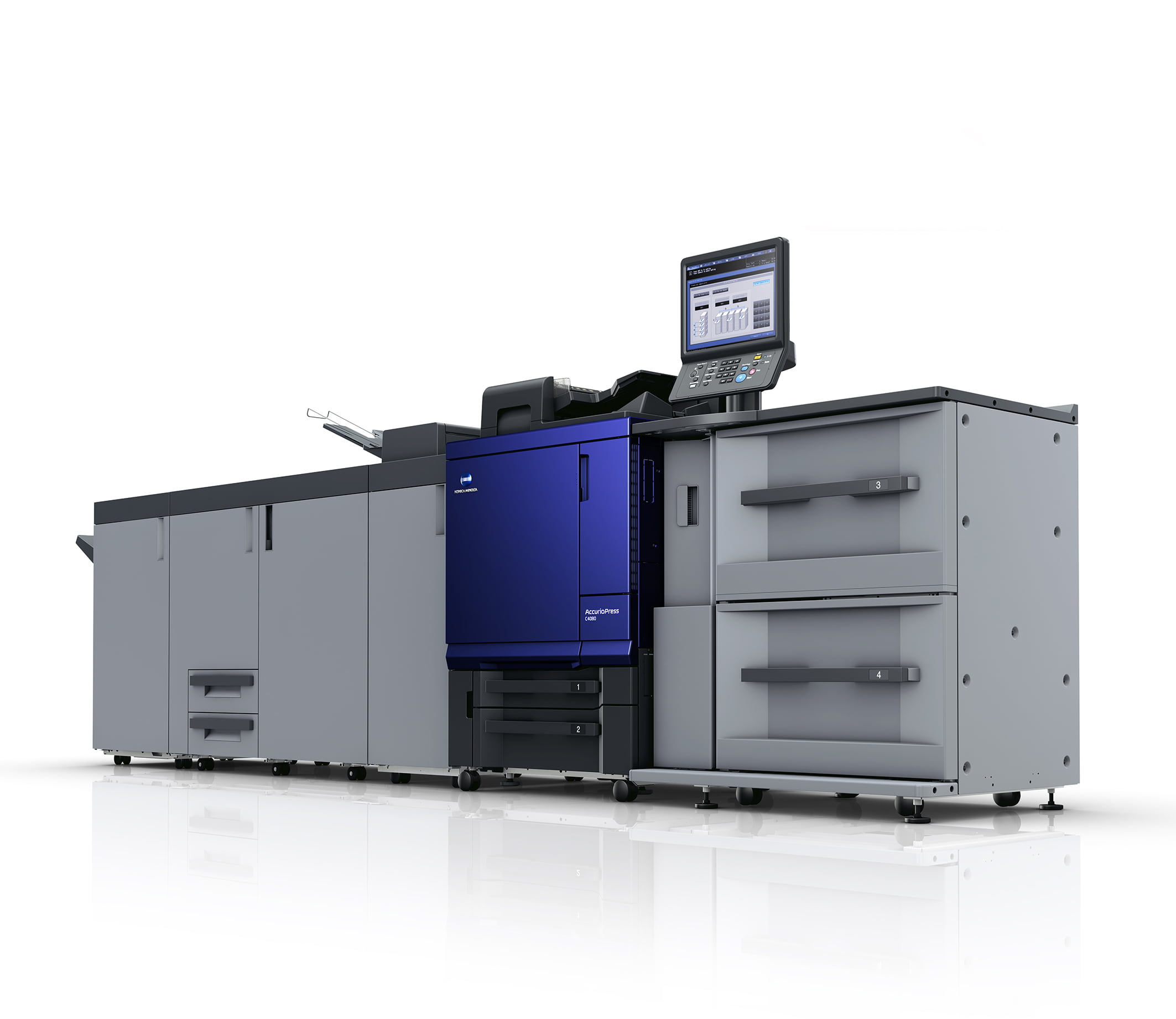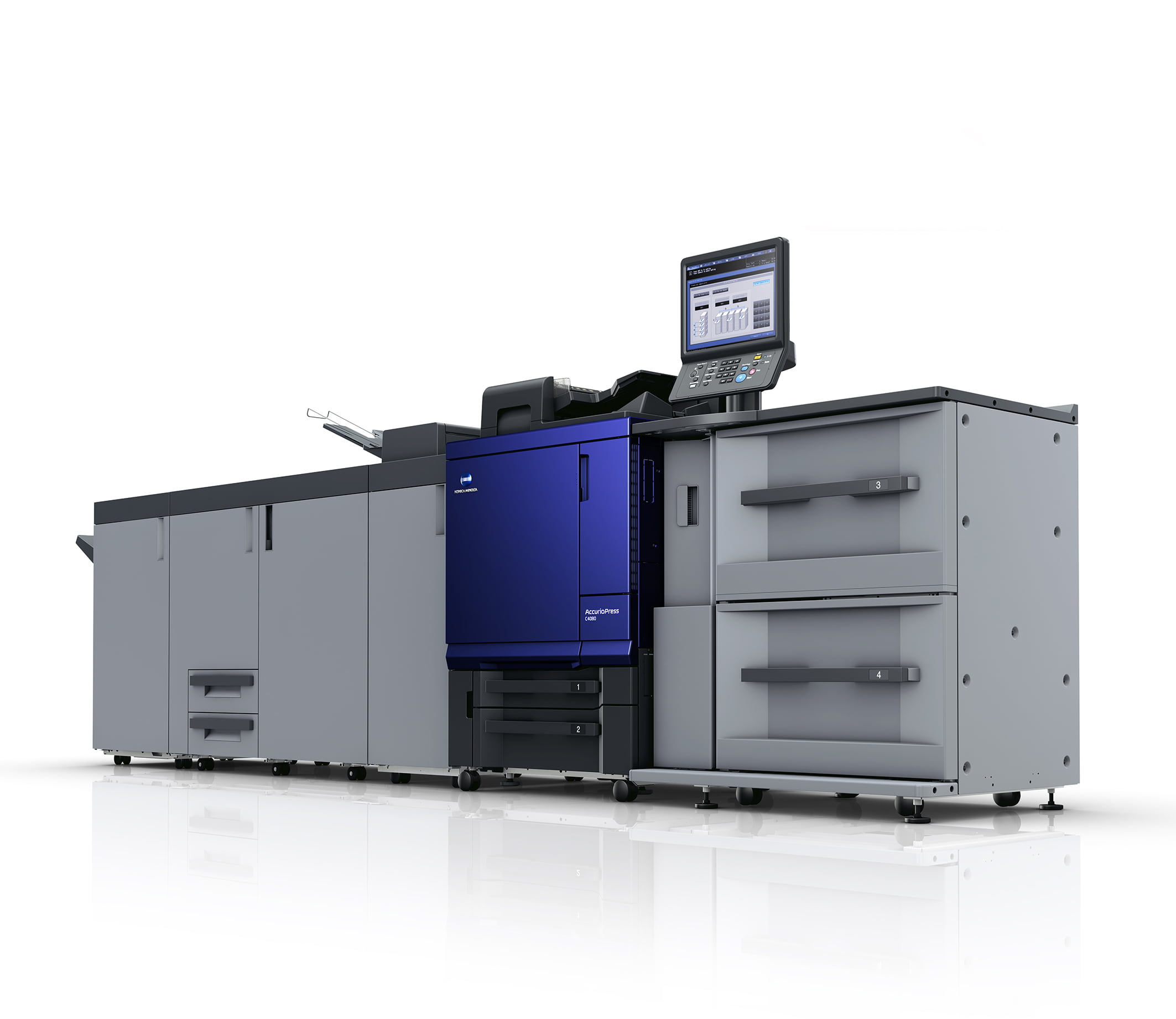 AccurioPress C4080
SKU

C4080

Brands

Konica

Origins

Japan

Price:

Contact

Status:

Available Stock
Imagine having just a single press that is good for everything: 2-sided banner printing, professional inline finishing, highest productivity, real-time automated quality adjustments, excellent print quality, and so much more. That's the AccurioPress C4080/C4070 from Konica Minolta for you: our agile production color press with features that enable you to expand your business into new markets and develop new revenue streams.
A single engine does it all: The AccurioPress C4080/C4070 is a fully configured press to expand your business as you wish. You can print flat sheets, duplex long sheets of up to 864mm, or directly finish prints inline with our extensive choice of finishing options to meet your clients' every need in one integrated production process.
Exceptional quality, every print: Exclusive IQ-501 Intelligent Quality Care leverages Konica Minolta's long history of brilliant imaging technology, allowing you to wow your customers with stunning consistent colour prints time and time again.
Grow your business: Our system offers the biggest media variety in the market, from thin to thick paper, embossed paper, envelopes and many more. All supported by our new optional media sensor to guarantee worry-free operation.
Boost efficiency: Operators of any AccurioPress system can count on simple setup, an ultra-reliable paper path, exceptional productivity and outstanding automated image stability. Our R&D Team has given highest priority to fulfilling today's high demands in the printing industry. What's more, the AccurioPress system seamlessly integrates into various software applications from our portfolio that will make your business more economic. Infinite possibilities for any requirement.
Model Name
AccurioPress C4080
Type
Console type
Colour Support
Full colour
Resolution
Scan
600 dpi × 600 dpi
Print
3,600 (Equivalent) × 2,400 dpi
Gradation
8-bit / 256 gradation
CPU
Pentium G3420 3.2 GHz
Memory
10GB
HDD
1 TB × 3
Original Type
Sheet, Book, Solid object
Max. Original Size
A3 or 11×17
Max. Printing Area
323 mm × 480 mm (Banner paper: 323 mm × 1,300 mm)
Paper Size
Standard: SRA3, A3, B4, SRA4, A4, B5, A5, 13×19, 12×18, 11×17, 9×11, 8 1/2×14, 8 1/2×11, 5 1/2×8 1/2S, Tab paper (A4, 8 1/2×11)
Max. 330 mm × 487 mm, Min. 140 mm × 182 mm*1
Multi-bypass (Option): SRA3, SRA4, A3, B4, A4, B5, A5, B5S, 13×19, 12×18, 11×17, 8 1/2×11, Postcard
Max. 330 mm × 487 mm, Min. 100 mm × 148 mm
Banner Printing Mode: Length 488 to 1,300 mm
Image Loss
Max. 4.0 mm or less for top edge, Max. 4.5 mm or less for bottom edge, Max. 3.0 mm or less for right / left edges
Warm-up Time
390 seconds or less (at room temp 20°C, rated power supply)
First copy Out Time*2
Black & White
4.2 seconds or less
Full Colour
6.9 seconds or less
Continuous Print Speed*3
81 pages/min. (A4 landscape)
45 pages/min. (A3)
Copy Magnification
Fixed Same Magnification
1: 1±0.5% or les
Scaling Up
1: 1.154/1.224/1.414/2.000
Scaling Down
1: 0.866/0.816/0.707/0.500
Preset
3 types
Zoom
25 to 400% (in 0.1% increments)
Tray Capacity
Standard: 1,500 sheets (80 gsm) Option: Multi-bypass, 250 sheets (80 gsm)
Paper Weight
62 gsm to 360 gsm (Coated paper: 81 gsm to 360 gsm)
Continuous Print Count
Up to 9,999 sheets
Auto Duplex
SRA3, SRA4, A3, B4, A4, B5, A5, B6S, A6S, 13×19, 12×18, 11×17, 9×11, 8 1/2×14, 8 1/2×11, 5 1/2×8 1/2S, Postcard
Max. 330 mm × 487 mm, Min. 100 mm × 148 mm
Paper Weight: 62 gsm to 350 gsm
Paper Output Capacity
150 sheets (with an optional Output Tray OT-511)
Power Source
Inch : AC208 to 240V 22A 60 Hz
Metric : AC220 to 240V 21A, 50 Hz / 60 Hz
Power Consumption
Inch: 5,200W or less (Main unit only)
Metric: 4,900W or less (Main unit only)
Dimensions ( W × D × H )
800 mm × 903 mm × 1,076 mm (Main body + Original Cover)
Space Requirements
631 mm or more in the front (for sliding out ADU unit), 200 mm or more from the rear duct, 100 mm or more on the both sides
Weight
Approx. 312 kg
AccurioPress C4080
please fill out the questionnaire