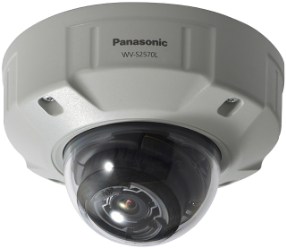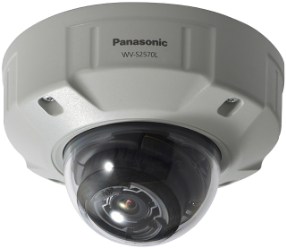 Camera Panasonic WV-S2570L
SKU

WV-S2570L

Brands

Ipro

Origins

Japan

Price:

contact
IPRO is a global leader of advanced sensing technologies in the fields of Intelligent Surveillance, Public Safety, and Industrial/Medical Imaging. Established in 2019, IPRO was built on a legacy of over 60 years of innovation with Panasonic.
The company's products, software and services extend human senses to capture moments of truth with innovations that inform and protect. In order to help create a safer world, IPRO supports the work of professionals who protect and save lives.
This 4K / 30 fps Fixed Dome Network Camera is based on the concept of "i-PRO EXTREME".
Extreme image quality allows evidence to be captured even under challenging conditions
– True 4K lens and large image sensor realize wide area surveillance with high quality images
– Auto Shutter speed control for moving objects
– Outstanding low light performance in true color with low noise nighttime applications
– Built-in IR LED to produce a clear monochrome image in 0 lux conditions with 40 m (131 feet) irradiation distance
– Environmental durability : IP66, IK10
Extreme H.265 compression with new Smart Coding
– Longer recording and less storage compared to any H.264 based compression techniques
– New self-learning ROI* encoding (Auto VIQS) detects movement within the image and compresses the areas with little motion in order to reduce transmitted data while maintaining the quality of the image
*Region of Interest
Extreme Data Security
– Full encryption SD card edge recording to keep your data safe
– FIPS 140-2 Level 1 compliant
– Full end-to-end system encryption with supported VMS and devices to protect from IP snooping/spoofing and detect data alteration
Model
WV-S2570L
Camera
Image Sensor
1/1.8 type CMOS image sensor
Minimum Illumination
Color: 0.09 lx, BW: 0.05 lx
(F1.5, Maximum shutter: Off (1/30s), AGC: 11)
BW 0 lx
(F1.5, Maximum shutter: Off (1/30 s), AGC: 11, when the IR LED is lit)
Color: 0.006 lx, BW: 0.003 lx
(F1.5, Maximum shutter: max. 16/30s, AGC: 11)
White Balance
ATW1, ATW2, AWC
Shutter Speed
1/30 Fix to 1/10000 Fix
Intelligent Auto
On/ Of
Super Dynamic
On/ Off, the level can be set in the range of 0 to 31.
Dynamic Range
Max 120 dB (Super Dynamic: On, Level: 31)
Adaptive Black Stretch
The level can be set in the range of 0 to 255.
Back light compensation/ High light compensation
BLC (Back light compensation)/ HLC (High light compensation)/ Off
The level can be set in the range of 0 to 31.
(only when Super dynamic/ Intelligent Auto : Off)
Fog compensation
On/ Off, The level can be set in the range of 0 to 8
(only when Intelligent auto/ auto contrast adjust: Off)
Maximum gain
The level can be set in the range of 0 to 11.
Color/BW (ICR)
Off/ On (IR Light Off)/ On (IR Light On)/ Auto1 (IR Light Off)/ Auto2 (IR Light On)/ Auto3 (SCC)
IR LED Light
High/ Middle/ Low/ Off, Maximum irradiation distance : 40 m {Approx. 131 ft}
Digital Noise Reduction
The level can be set in the range of 0 to 255.
Video Motion Detection (VMD)
On/ Off, 4 areas available
Intelligent VMD (i-VMD)
Type Bundled License
Privacy Zone
On/ Off (up to 8 zones available)
Image rotation
0° (Off)/ 90°/ 180° (Upside-down)/ 270°
CameraTitle (OSD)
On/ Off Up to 20 characters (alphanumeric characters, marks)
Lens
Zoom Ratio
2x Optical zoom (Motorized zoom/ Motorized focus)
6x HD Extra Optical Zoom (when resolution is 1280×720)
Digital (electronic) zoom
Choose from 3 levels of x1, x2, x4
Focal length
4.3 mm – 8.6 mm {5/32 inches – 11/32 inches}
Maximum Aperture Ratio
1 : 1.5 (WIDE) – 1 : 2.4 (TELE)
Focus range
1 m {39-3/8 inches} – ∞
Angular Field of View
[16 : 9 mode] Horizontal : 52° (TELE) – 101° (WIDE)
Vertical : 29° (TELE) – 55° (WIDE)
Adjusting Angle
Adjusting Angle
Horizontal (PAN) angle : ±180°
Vertical (TILT) angle : -30 to +85°
Azimuth (YAW) angle : ±100°
Browser GUI
Camera Control
Brightness, AUX On/ Off
Audio
Mic (Line) Input: On/ Off
Volume adjustment: Low/ Middle/ High
Audio Output: On/ Off
Volume adjustment: Low/ Middle/ High
GUI / Setup Menu Language
English, Italian, French, German, Spanish, Portuguese, Russian, Chinese, Japanese
Network
Network IF
10Base-T/ 100Base-TX, RJ45 connector
Resolution
H.265/ H.264/ JPEG (MJPEG)
[16 : 9 mode]
3840×2160, 2560×1440, 1920×1080, 1280×720, 640×360, 320×180
H.265/ H.264
– Transmission Mode: Constant bit rate/ VBR/ Frame rate/ Best effort
– Transmission Type: Unicast/ Multicast
JPEG
Image Quality: 10 steps
Smart Coding
GOP (Group of pictures) control :
On (Frame rate control)/ On (Advanced)/ On (Mid)/ On (Low)/ Off
*On (Frame rate control) and On (Advanced) are only available with H.265.
Auto VIQS: On/ Off
Audio Compression
G.726 (ADPCM): 16 kbps/ 32 kbps G.711: 64 kbps
AAC-LC: 64 kbps/ 96 kbps 128 kbps
Audio transmission mode
Off/ Mic (Line) input/ Audio output/ Interactive (Half duplex)/ Interactive (Full duplex)
Supported Protocol
– IPv6: TCP/IP, UDP/IP, HTTP, HTTPS, RTP, FTP, SMTP, DNS, NTP, SNMP, DHCPv6, MLD, ICMP, ARP, IEEE 802.1X, DiffServ
– IPv4: TCP/IP, UDP/IP, HTTP, HTTPS, RTSP, RTP, RTP/RTCP, FTP, SMTP, DHCP, DNS, DDNS, NTP, SNMP, UPnP, IGMP, ICMP, ARP, IEEE 802.1X, DiffServ
No. of Simultaneous Users
Up to 14 users (Depends on network conditions)
SDXC/SDHC/SD Memory Card
– H.265/ H.264 recording: Manual REC/ Alarm REC (Pre/Post)/ Schedule REC/ Backup upon network failure
– JPEG recording: Manual REC/ Alarm REC (Pre/Post)/ Backup upon network failure
– Compatible SDXC/SDHC/SD Memory Card:
Panasonic 2 GB, 4 GB*, 8 GB*, 16 GB*, 32 GB*, 64 GB**, 128 GB**, 256 GB**model
*SDHC card, ** SDXC card (except miniSD card and microSD card)
Mobile Terminal Compatibility
iPad, iPhone, Android mobile terminals
Alarm
Alarm Source
3 terminals input, VMD alarm, Command alarm
Alarm Actions
SDXC/SDHC/SD memory recording, E-mail notification, HTTP alarm notification, Indication on browser, FTP image transfer, Panasonic alarm protocol output
Input/ Output
Monitor Output (for adjustment)
VBS: 1.0 V [p-p]/ 75Ω, composite, ø3.5 mm mini jack
An NTSC or PAL signal can be outputted from camera
Audio input
ø3.5 mm stereo mini jack
For microphone input
Recommended applicable microphone: Plug-in power type
(Sensitivity of microphone: -48 dB±3 dB (0 dB=1 V/Pa, 1 kHz))
Input impedance: Approx. 2 kΩ (unbalanced)
Supply voltage: 2.5 V ±0.5 V
For line input
Input level: Approx. –10 dBV
Audio Output
ø3.5 mm stereo mini jack (Audio output is monaural.)
Output impedance : Approx. 600 Ω (unbalanced)
Output level : –20 dBV
External I/O Terminals
ALARM IN 1(Alarm input 1/ Black & white input/ Auto time adjustment input) (x1)
ALARM IN 2 (Alarm input 2/ ALARM OUT) (x1) , ALARM IN 3 (Alarm input 3/ AUX OUT) (x1)
General
Safety
UL (UL60950-1), c-UL (CSA C22.2 No.60950-1), CE, IEC60950-1
EMC
FCC (Part15 ClassA), ICES003 ClassA, EN55032 ClassB, EN55024
Power Source and Power Consumption
DC power supply: DC12V 880 mA/ Approx. 10.6W
PoE (IEEE802.3af compliant) Device: DC48 V 230 mA/ Approx. 11.0 W (Class 0 device)
Ambient Operating Temperature
-40 °C to +60 °C (-40 °F to 140 °F)
(Power On range : –30 °C to +60 °C {–22 °F to 140 °F})
Ambient Operating Humidity
10 to 100% (no condensation)
Water and Dust Resistance
IP66 (IEC60529), Type 4X(UL50E), NEMA 4X compliant
Shock Resistance
50J (IEC 60068-2-75 compliant), IK10 (IEC 62262)
Wind Resistance
Up to 40 m/s {approx. 89 mph}
Dimensions
*When using base bracket
When using base bracket: ø164 mm × 139 mm (H) {ø6-15/32 inches × 5-15/32 inches (H)}
Dome radius 42 mm {1-21/32 inches}
When using attachment plate only: ø154 mm × 103 mm (H) {ø6-1/16 inches × 4-1/16 inches (H)}
Dome radius 42 mm {1-21/32 inches}
Mass
*When using base bracket
When using base bracket: Approx. 1.6 kg {3.53 lbs}
When using attachment plate only: Approx. 1.2 kg {2.65 lbs}
Finish
Main body: Aluminum die cast, Light gray
Outer fixing screws: Stainless steel (Corrosion-resistant treatment)
Dome cover: Polycarbonate resin, Clear
Camera Panasonic WV-S2570L
please fill out the questionnaire