Charity case 25: Ms Tran Anh Thu
In March 2023, PHUCBINH DONATION sponsored heart surgery for Ms Tran Anh Thu with the amount of 20 million VND.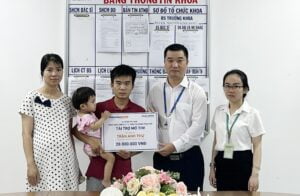 Information about sponsors
In the early spring days of 2023, PHUCBINH DONATION received contact from the family of Ms Tran Anh Thu (17 months old). Ms Thu is the daughter of Mr. Tien and Ms.Thao after many times of artificial insemination. The whole family moved from Thanh Hoa to Binh Duong to live. Home economics depend on Mr. Tien's salary, but he also quit his job to work as a helper 3 months ago.
At the end of 2022, Thu had signs of poor health, her family took her to the doctor and discovered that she had a congenital heart defect with tetralogy of Fallot (diagnosed at Children's Hospital I in Ho Chi Minh City). The cost of surgery is too big for the baby's family!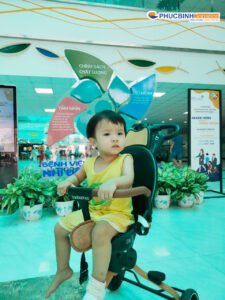 Charity
After receiving the dossier, PHUCBINH DONATION contacted the local authorities and the Children's Hospital of Ho Chi Minh City to verify. Phucbinh Donation has decided to sponsor Tran Anh Thu's family a part of the surgery cost: 20 million VND.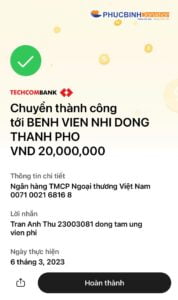 On February 24, 2023, a representative of Phucbinh Donation Fund visited and gave grants to the family. Ms Tran Anh Thu had surgery on March 5 and was discharged on March 15, 2023. We wish Ms thu good health!
PHUCBINH DONATION was established in 2017 with the budget extracted from the annual profit of PHUCBINH GROUP and the contributions of the Company's employees, benefactors. Since its establishment the foundation has cooperated with the hospital to accompany many heart surgeries for disadvantaged children across the country.
All charitable activities of the PHUCBINH DONATION will be publicly updated on the Phuc Binh's webiste: www.phucbinh.com.vn
If you can help, send your donation to:
Transferringyour charity
Account holder: Nguyễn Khắc Quý (Mr)
Account number: 0451001662730​
With Bank Joint Stock Commercial Bank for Foreign Trade of Vietnam (Vietcombank)
Bank transferring content: [PHUCBINH DONATION] …
Giving directly (Phucbinh Donation)
Head office: No A44 Duc Dien street, Bac Tu Liem district, Ha Noi city
Branch office in Da Nang city: 436/1 Nguyen Tri Phuong street, Hai Chau district, Da Nang city
Branch office in Ho Chi Minh city: 52/5A Cu Lao street, Phu Nhuan district, Ho Chi Minh city
Accoding to: PHUCBINH DONATION