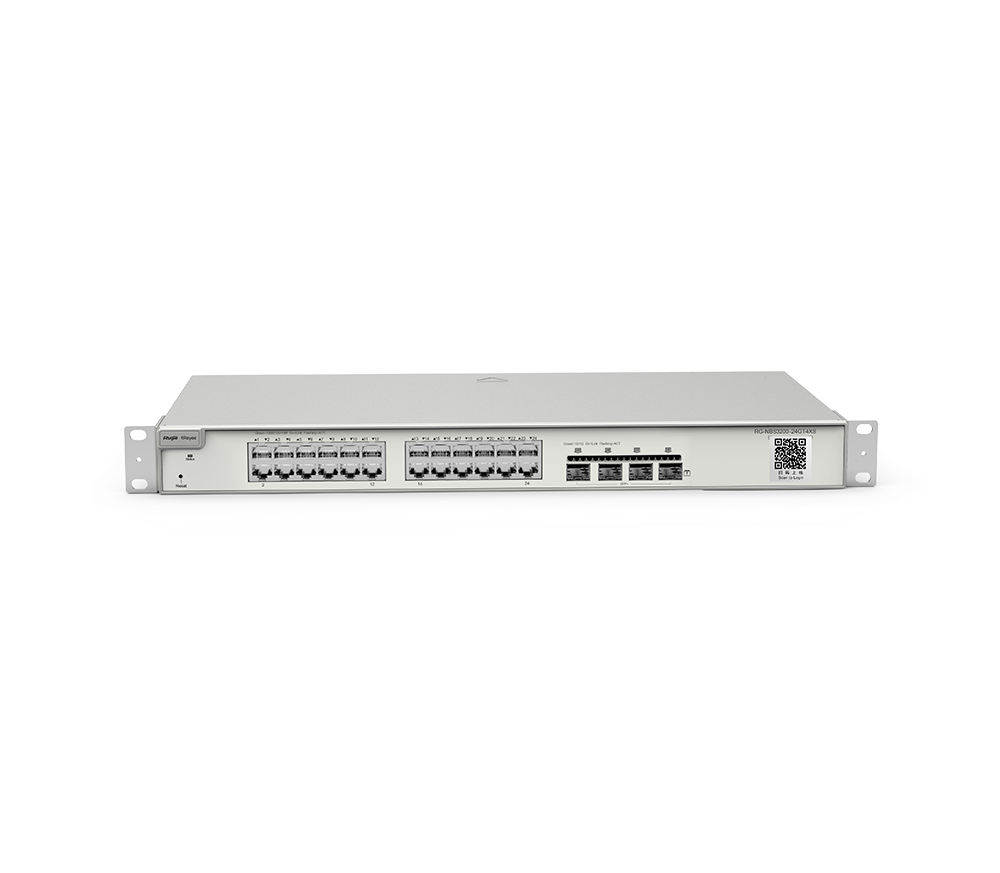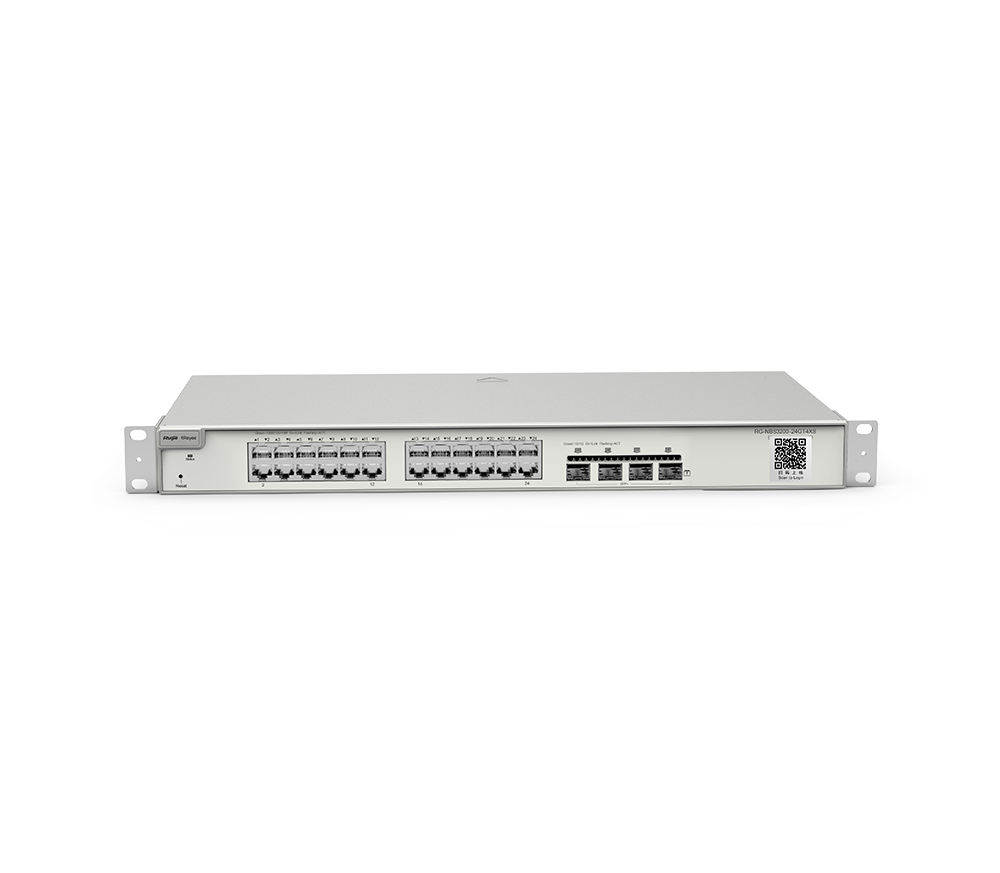 RG-NBS5100-24GT4SFP
Mã sản phẩm

RG-NBS5100-24GT4SFP

Thương hiệu

Ruijie

Xuất xứ

China

Giá:

Liên hệ
Ruijie Networks là một trong 4 nhà sản xuất thiết bị mạng – wifi cấp doanh nghiệp (Enterprise) lớn nhất thế giới (Ruijie, Cisco, HP, Huawei,…). Các sản phẩm cấp doanh nghiệp được kiểm tra và chứng nhận bởi công ty Tolly (USA).
RG-NBS5100-24GT4SFP là một trong những sản phẩm thuộc bộ sưu tập sản phẩm của Ruijie, được phân phối bởi Công ty CPCN Phúc Bình. Với thiết kế tinh tế kết hợp cùng những tính năng nổi bật, phù hợp sử dụng cho khách sạn, nhà máy, cửa hàng, văn phòng vừa & nhỏ.
RG-NBS5100-24GT4SFP
Ruijie RG-NBS5100&5200 Series Switches are the next-generation high-performance, high-security and multi-service Layer 3 Ethernet switches. Adopting an efficient hardware architecture design, this switch series provides larger MAC address table size, faster hardware processing performance, and more convenient operating experience.
RG-NBS5100 series provides Gigabit access and Gigabit uplink, while RG-NBS5200 series provides Gigabit access and 10G uplink ports. Every switch of this series offers 4 fixed 10G fiber ports with high-performance uplink capability.
RG-NBS5100&5200 series switches provide comprehensive end-to-end QoS as well as flexible and rich security settings for small and medium-sized networks at an extremely high price-performance ratio to meet the needs of high-speed, secure and smart enterprise networks.
Model

RG-NBS5200-24GT4XS

RG-NBS5200-48GT4XS

RG-NBS5200-24SFP/8GT4XS

RG-NBS5100-48GT4SFP

Model

RG-NBS5200-24GT4XS

RG-NBS5200-48GT4XS

RG-NBS5200-24SFP/8GT4XS

RG-NBS5100-24GT4SFP

RG-NBS5100-48GT4SFP

Fixed ports

24 10/100/1000Base-T ports, 4 SFP+ 10GBase-X ports, fixed single AC power supply

48 10/100/1000Base-T ports, 4 SFP+ 10GBase-X ports, fixed single AC power supply

24 SFP ports (SFP: 100/1000M ports), 8 combo 10/100/1000Base-T ports, 4 SFP+ 10GBase-X ports

24 10/100/1000Base-T ports, 4 SFP 1000Base-X ports, fixed single AC power supply

48 10/100/1000Base-T ports, 4 SFP 1000Base-X ports, fixed single AC power supply

Switching capacity

336Gbps

336Gbps

336Gbps

336Gbps

336Gbps

Packet forwarding rate

108Mpps

144Mpps

108Mpps

51Mpps

87Mpps

MAC address

Support static MAC address, MAC address filtering

MAC address table size

16K

Number of VLANs

4094

Layer 3 aggregation ports

16

Link aggregation

Support

Port mirroring

Many-to-one mirroring

Spanning tree

STP, RSTP

LLDP

Support

IP routing

Support static routing

ACL

IP standard ACL

MAC extended ACL

IP extended ACL

Port ACL for Layer 2 ports (physical port / AP)

QoS

Port-based speed limit (ingress/egress)

Security

Port protection

Hardware CPP

Management

Web management, Ruijie Cloud platform or Ruijie Cloud app management

DHCP

DHCP snooping

EEE

Support

Physical specifications

Dimensions

440×207.5×43.6mm

440×267.5×43.6mm

440×207.5×43.6mm

440×267.5×43.6mm

Temperature

Operating temperature: 0 ℃ ~ 50 ℃

Storage temperature: -40 ℃ ~ 70 ℃

Humidity

Operating humidity: 10% ~ 90% RH

Storage humidity: 5% ~ 90% RH
RG-NBS5100-24GT4SFP
Quý khách vui lòng điền thông tin vào mẫu bên dưới, chúng tôi sẽ phản hồ trong thời gian sớm nhất